Bargain art – The Village Blacksmith
A nearby church has an annual garage sale and it's HUGE. This is the second time I've been and I will definitely going back. Last year I think I found a few things, nothing I can remember specifically, but this year… this year I got something worth remembering!
After a few historic home tours, Jeremiah has been constantly lamenting our lack of artwork so I headed to the decor section and saw, tucked behind the endless inspirational quote wall hangings, the back of a large frame with a picture rail moulding hook and tassel. I knew right then I wanted whatever it was because it likely came out of a nearby stately Heritage Hills home. I turned it around and was pleasantly surprised to find a large classic scene in meh condition. Even better was the $2 pricetag.
So I lugged it to the front, paid and stashed it in my trunk to finish my shopping (they don't hold things and it was quite heavy… did I mention this sale is huge?).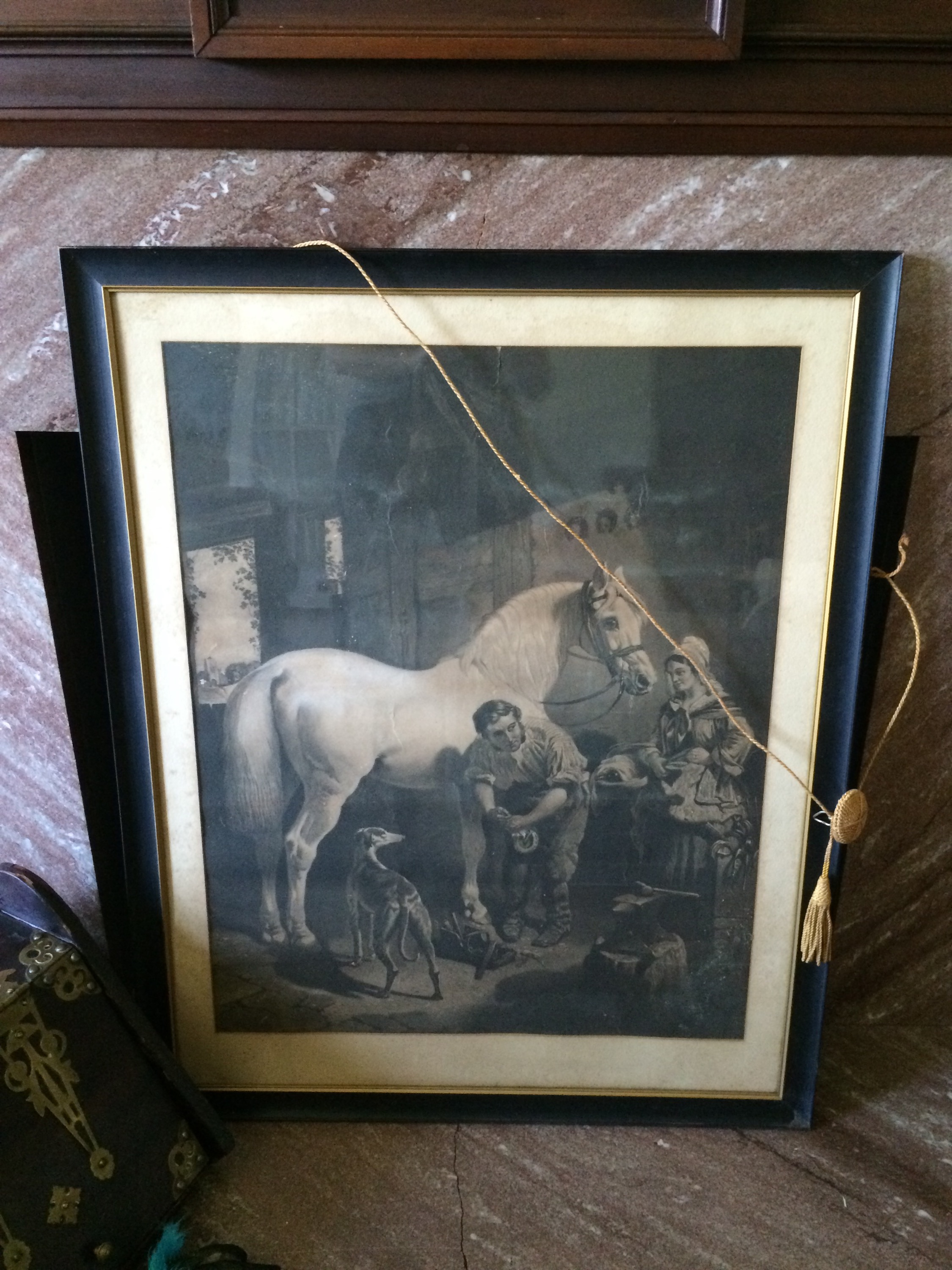 Once I got it home and looked it over, I noticed the mat looked spotted like it was kept in someone's moldy basement. I let it sit for a few weeks before I fully assessed the mess. The glass had stripes of dusty mildew, the (not acid-free) mat and cardboard backing was also mildewed and yellowing badly, and the print itself was a little tattered.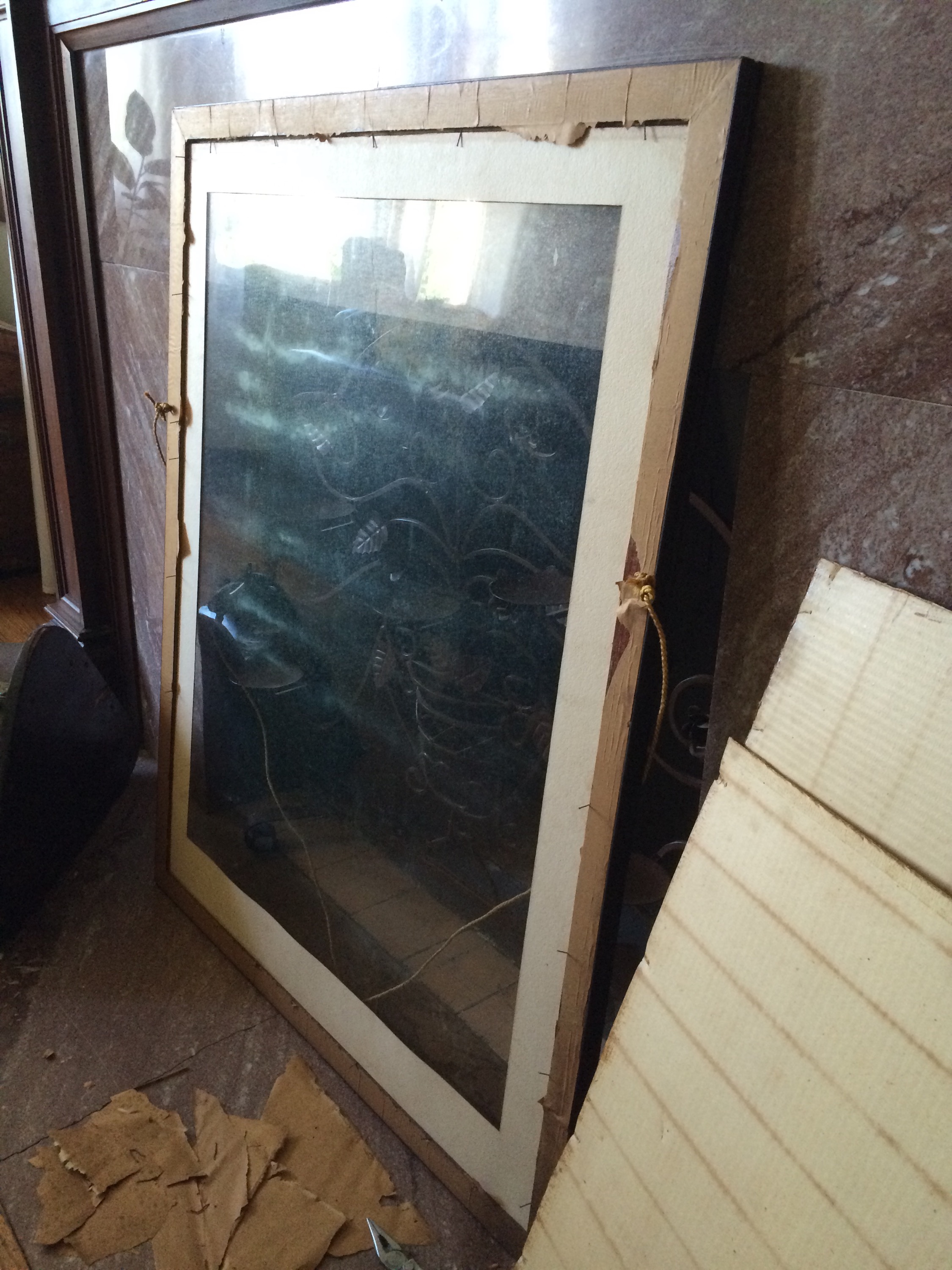 Once out of its frame, however, I started noticing it didn't look like a modern print, not even a few decades-old print as I had originally suspected. I could also read some of the title: "The Village Blacksmith …. J. F. Herring …. George Patterson…" I looked it up and found this description on an art auction site:
Framed engraving after the painting by J. F. Herring (1795-1865). Dated 1858-9. 32″ T x 24″ W. Herring was inspired by the Henry Wadsworth Longfellow poem of the same name. This is the last engraving created by George Patterson before his death and the horse, in particular, was celebrated as one of the best depictions of its kind. The engraving was published exclusively for the members of the Cosmopolitan Art Association for the Fifth Year 1858-1859, and this image hung over the bed where President Lincoln died.
So this thing is OLDER THAN THE AMERICAN CIVIL WAR. It's older than anything I think I've ever touched, if you discount things like actual dirt and rocks. The first owner of my house wasn't even born yet, and his parents were likely children. Did I mention I found it FOR TWO DOLLARS!? Anyway, I ordered a new mat and backing, and have thoroughly cleaned the frame and glass. It will again be adored and admired in a historic home.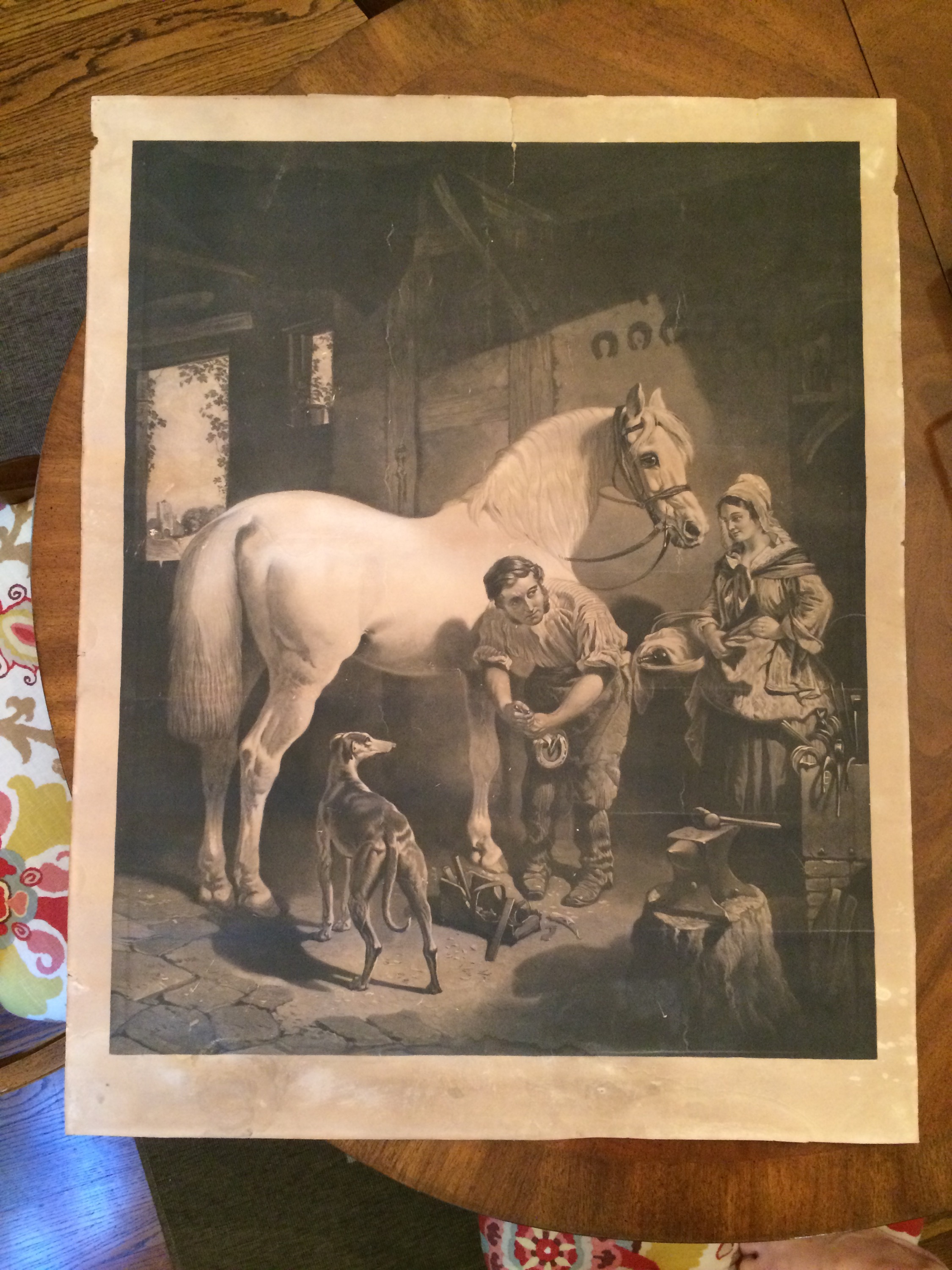 Again, FOR TWO DOLLARS.