Though I don't know that I've ever mentioned it before, I love a site called Coco Cozy. "Coco" has a fancy media day job in Hollywood and by night (or, whenever she has free time) blogs and designs textiles. I can't say I'm not jealous. I can't even pretend for a few minutes I'm not jealous. Of course the trade off is that I get to see the blog and she has to do all the leg work… but… yeah I'm still jealous.
A few times a month she does a feature "See this … House" and recently she posted a $22M NYC penthouse. It's pretty amazing and though I'm sure I'd get over it, I can't help but feel the rush of vertigo when I see the dining area. I love Ghost Chairs and I love to-the-floor windows, but something about them together makes even the photograph hard to look at: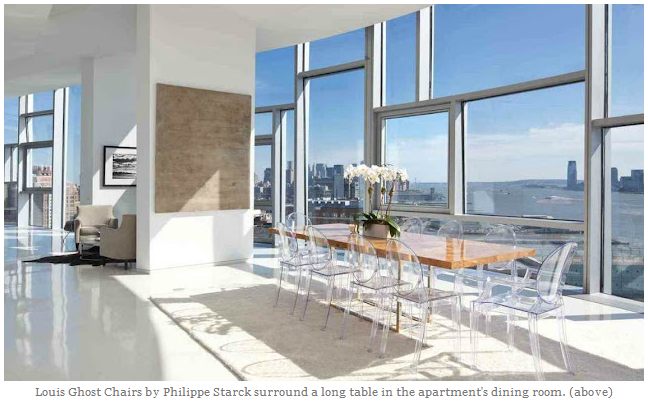 Anyhow, you should go see the entire post on her blog because the whole thing is really amazing. Like I said, if I lived in this $22M penthouse I'm sure I'd get over it.
www.cococozy.com/2012/07/see-this-house-22-million-dollar.html