More design posts on the way!
I've not had very many design-related posts lately. Work was running me dry so my energy was depleted by 7 p.m. every Monday through Friday. On weekends the house usually bogarts our time, which I'm alright with since I love it so much and all, but it just leaves so little time for actual creative design.
Well, that is, until May 30. Today marks one month since my last day at College of Architecture. After nearly five years at OU I decided I wanted to go on my own (again) to do creative and marketing work. I will also be getting my vintage clothing and housewares boutique online again as I have time to post items. Of course, all my self-employment plans screeched to a halt when a house thing turned from a purported six-hour project to a two-week project that left a gaping hole in the front of our house, but more about that later.
Back to the creative design work, to re-acclimate my brain to silly creative work, I decided to design something fun for Father's Day. My dad and his wife recently purchased a giant RV so I did a couple little framed pieces for them. Like I do, I laughed and laughed all by myself in my office about these. I was happy to see that when I gave them to my dad, who I met up with at his brother's restaurant, my uncle laughed and laughed about them too. Must run in the family.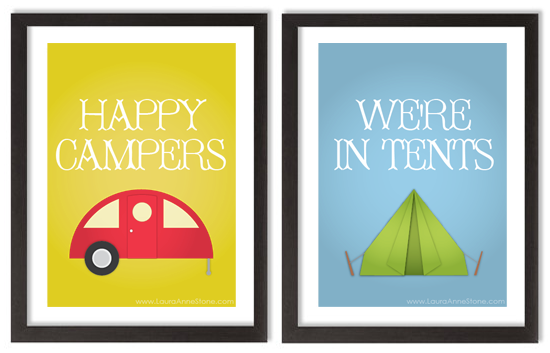 I might offer them as prints or digital download files when I get my shop done, but for now they're just silly little things I drew up in an afternoon.