WEEKEND PROJECT: Gifts for Pets (and using leftover craft scraps)
About two weeks ago I wrote about my pine cone door hanger. I've also crafted a few other things…
Though I'm no longer a starving student, the crafty poor kid in me still likes making handmade gifts. While I was waiting for inspiration to strike looking through Martha Stewart's homemade gift ideas, I found a Feather Cat Toy and Shrinky Dink Pet Tag. These worked out great because for the most part I had all of these ingredients left over from other projects. Both actually turned out very nice with the added benefit of getting a jump start on my Craft Room Clean-Out scheduled for next week!
Felt Feather Cat Toy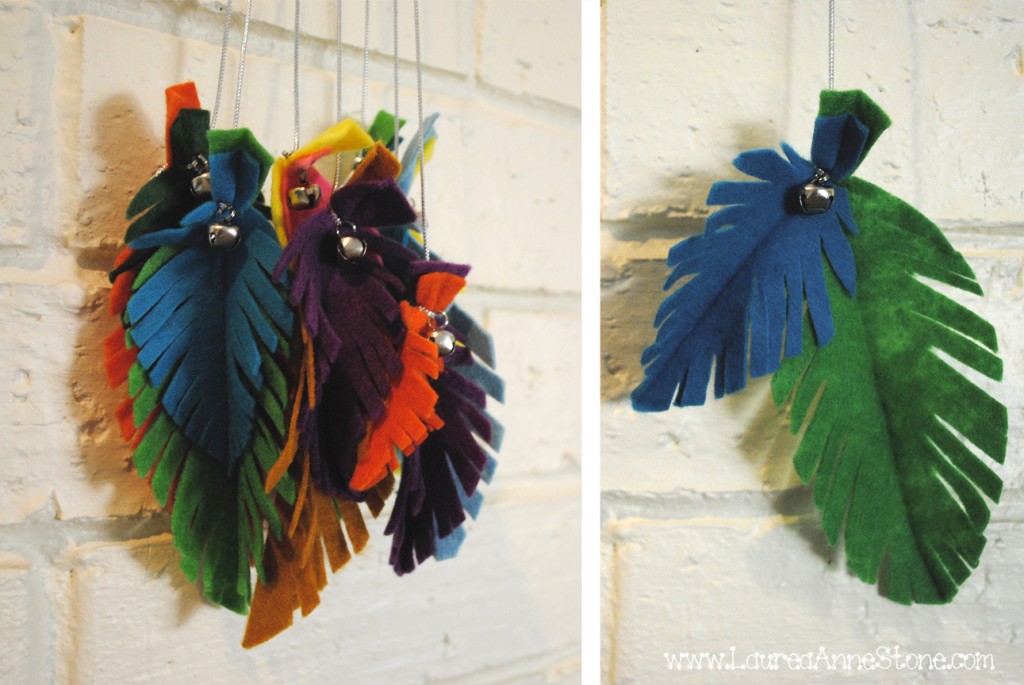 Feather Cat Toy printable template| Feather Cat Toy instructions
Technically I just saw the picture on the instructions and took it from there, though there is a template available. Once I cut all the "feathers" I added little jingle bells to the toy end and a large split ring (like a key chain ring) to the string end to hold on to (you could just tie a loop at the end). I also used silver cord instead of a leather strap and added a dot of glue to the knots because Milo is pretty destructive and manages to shred and untie everything I give him. I think he learned it from the dogs…. or maybe he taught them.
Shrinky Dink Pet Tag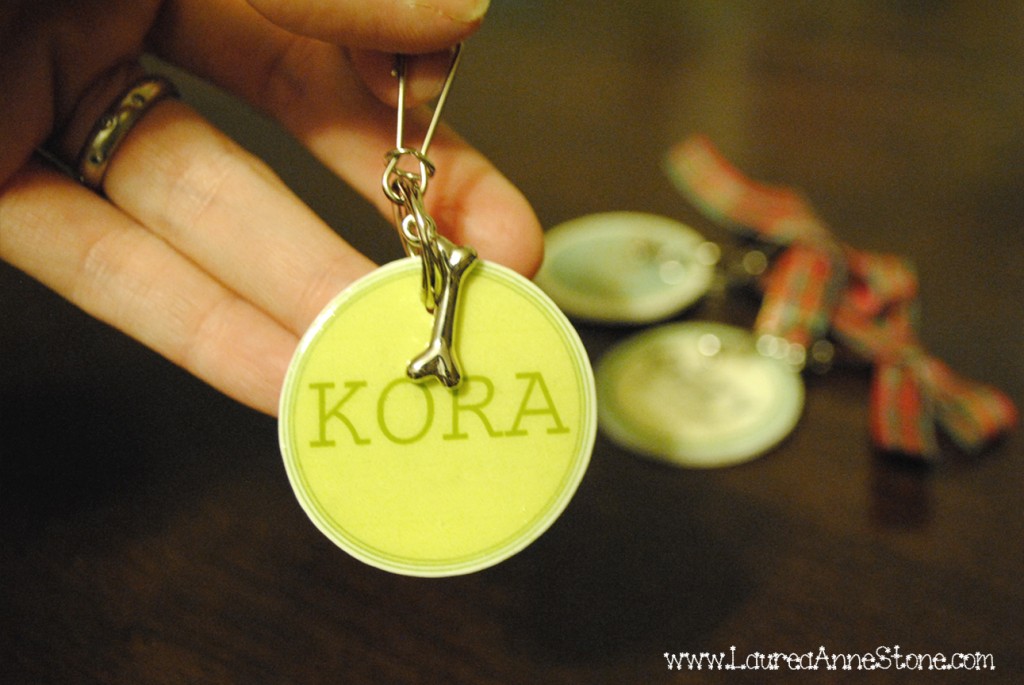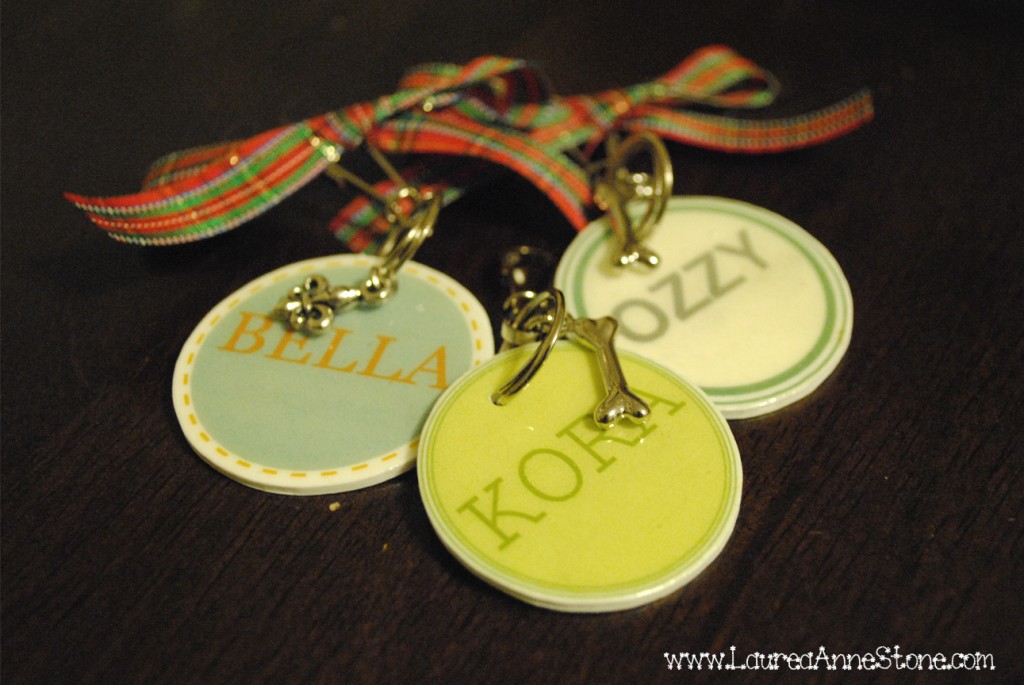 Printable Pet ID Tag template | Shrinky Dink Pet Tag instructions
I just used the template (for Shrinky Dinks printable plastic sheets) but didn't exactly follow the instructions for this one either. Instead of a jump ring, I used a split ring (key chain ring) and twisted it together to make sure the tags won't let go of their pets (I would hate to have a lost pet AND a lost ID tag!). I also added charms and a generous helping of Mod Podge Dimensional Magic to make the fronts shiny and seal the sides. I left the backs unfinished with instructions to the pet-owners to use that space to write their information and then to seal it with clear nail polish.
Wrapping with Ribbon Scraps (not exactly a craft, but still an on-the-cheap way to use up some leftover craft supplies)
I also used this year's gift wrapping as a way to put all those beautiful ribbon scraps to good use. Each package was wrapped in brown craft paper (a favorite of mine because it's such a blank slate for decorations!) and then each had a different ribbon with a circle-punch gift tag and a sprig of dried evergreen from a fall floral arrangement. It makes an impressive display, plus now all those pretty scraps get to show off their stuff!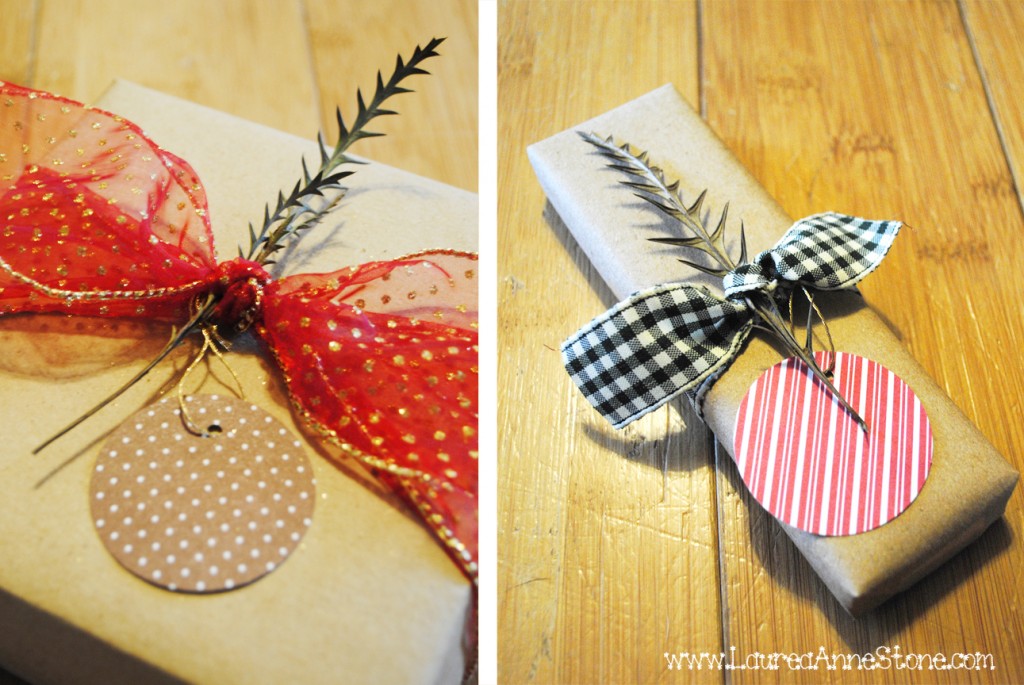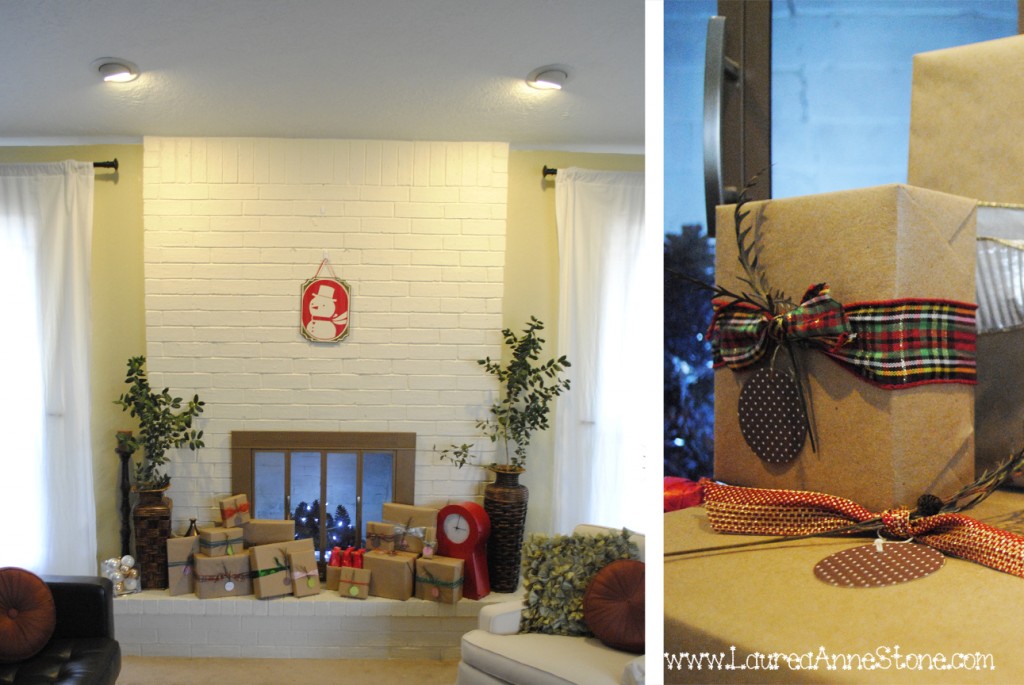 Also, here's Tyson, looking very serious and wondering when I'll be done here. I guess that's my cue. Happy holiday crafting!